Mo Teeuw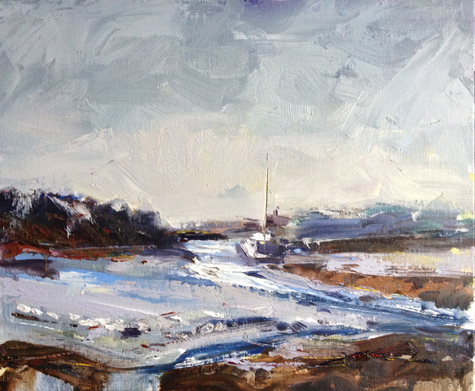 Brancaster Staithe - by Mo Teeuw - Oil
Mo became the Society's Chairman in 2014.
Mo's paintings are about light so she likes to work out of doors, taking paintings and sketches back to the studio for that final polish. She is mostly self-taught but has worked alongside some of the UK's foremost artists. She is a professional artist and experienced tutor with a large following.
She is an associate member of the British Watercolour Society and is an exhibiting member of the Welland Valley Art Society, Norwich & Norfolk Art Circle, East Coast Artists, West Norfolk Artists Association and The Lincolnshire Artists Society.
Mo has exhibited in many shows and competitions, as well as several solo exhibitions. She is a prize winner of the Burden's Open-Forester's Court Gallery, and the winner of the South Holland Open Arts 2010.
"This oil study was painted at the end of the day at Brancaster Staithe. 10 of us met up to paint. It was a sunny but rather windy day."